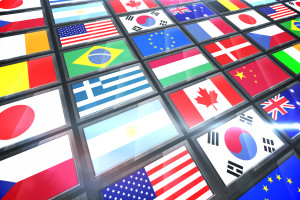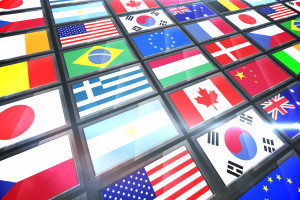 We welcome international land buyers! In fact, nearly 1 in 5 lots we seller are to buyers from outside the United States. Many savvy international investors have found well located U.S. land to be a safe, stable, and often rewarding investment. In fact, recent years has shown a significant increase in international investors buying U.S. land.
Foreign buyers purchase U.S. residential properties for a variety of reasons—for example, vacation, investment, asset diversification, and residential use. The National Association of Realtors says proximity to the home country, the presence of relatives, friends and associates, job and educational opportunities, and climate and location appear to be important considerations to prospective buyers. Europeans and Canadians are attracted to Florida for its warmer climate. Buyers from Latin America, including Mexico, favor states in close proximity such as Texas and Florida.
The top five countries with international buyers purchasing in the United States are Canada, China, India, Mexico, and the United Kingdom. These five countries account for approximately 50% of the U.S.'s international land purchases.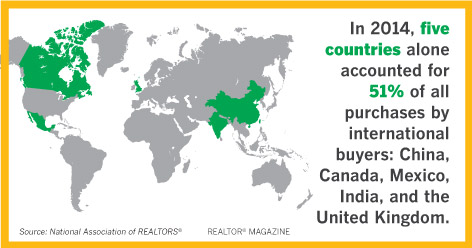 Jacob Passy from National Mortgage News writes that the real estate industry is seeing an all-time record of global equity competing for core real estate assets. Factors that contributed to this are higher confidence range from improvement in the U.S. economy, low interest rates and availability of equity capital.
More Realtors are reporting working with international clients, up from 28 percent in 2013 to 35 percent in 2014. Four states accounted for half of all international sales: Florida, California, Texas, and Arizona, according to NAR's report.
One source states that 90% of international buyers are looking for land in Florida. The Realtor's Association reported that Florida international sales are a major portion of the market.
Approximately 25 percent of all sales in Florida are to foreigners.
We can help you find the best investment value for Florida land. Since 2003 we have been very active in researching which areas are most desirable and provide the best return. Put our experience to work for you.
We also find the areas that are the most economical to hold. As a foreign investor you may not have plans to build right away. Maybe you want to hold your land for price appreciation. We find land that has low property taxes and holding costs while still owning in a great location.
We have sold to investors from over 10 countries. Our locally licensed title company has processed hundreds of international land deals. We have the experience you can count on.
At lotexperts.com, we provide land data, maps, prices, and descriptions to help you make an informed decision. We are also available to answer any questions.
Frequently Asked Questions:
Can international investors hold title to Florida land? Absolutely. Every lot we sell is available to international land buyers.
Is there regular maintenance needed for a lot I buy? No. The lots require no maintenance on your part. That is what makes them such a great international investment. No maintenance and low holding costs.
What are the tax consequences? For more information about tax concerns which affect international buyers, check out: FIRPTA Withholding – Withholding of Tax on Dispositions of United States Real Property Interests.
Let us help you find your perfect Florida land investment!
Recently available
$ 5,500
Cash - Financing Available
3316 6th St SW, Leigh Acres, FL 33976 Oversized building lot in the heart of Lehigh Acres! This lot is approximately 80′ wide by 135′ deep giving you about 900 square feet more than the standard Lehigh lot. It was cleared a few years ago in anticipation of building. However, there is no time limit to build. You can build now (electric is running ...
$ 8,000
Cash - Financing Available
SOLD Hard-to-find half acre lot in a prime area of Lehigh Acres! [Combine this lot with 717 Henry Ave for a FULL ACRE if we still have it available] Yes, this lot is double the size of the typical Lehigh lot and is less than 3 miles from Walmart Supercenter, Duncan Donuts, & grocery stores! You can have it all–privacy, extra space to spread ...
$ 12,500
Cash - Financing Available
We are proud to offer 12 Stern Place in Rotonda Sands. Whether you are looking for a good long-term or short-term investment or you desire to build a vacation or family home, the property has much to offer. This lot is located in the beautiful deed-restricted lakefront community of Rotonda Sands. Dues are only $100 per year and include community maintenance, beautification, and even cleared ...
$ 10,000
Cash - Financing Available
Desired South Gulf Cove waterfront community! This lot is a generous 10,000 square feet with plenty of room for your 3 or 4 bedroom pool home.  City water and sewer are in place! Lots of new construction in the community. There are many aspects of this lot that tie in the most desired lot elements. This lot is in close proximity to beaches, boat ...